3rd Annual HomeGrown Concert

Sunday, February 16, 2020, 4:00 pm, Bethany Lutheran, Rice Lake

Music from three centuries will be played by three ensembles at the Third Annual HomeGrown Concert at 4 p.m. on February 16, at Bethany Lutheran Church in Rice Lake. In its first two years, this youngest addition to the RCS annual concert calendar has delivered outstanding performances by some of the symphony's most talented musicians. This year will be no exception, with works by Haydn and Schubert contrasted with modern composers including Jay Unger, Rick Sowash, and John Williams.

One of the ensembles, In To The Woods, features Jim Hurst on marimba and Carol McDowall on violin. Hurst has arranged three pieces – Precious Lord, Take My Hand; the theme from Schindler's List, and Ashokan Farewell – for this unusual combination of instruments.

The two other groups performing are traditional string quartets, the perfect ensemble for a cozy winter afternoon. The Lakeside Quartet will perform Sowash's Pastoral for Flute and Strings, and Haydn's Quartet in D major. The Red Cedar String Quartet will play Schubert's Quartet No. 14 in D Minor, the famous "Death and the Maiden."

Spring Concerts - 2020

Please join us for a performance of memorable live classical music.

Saturday, March 7, 7:00 pm, Chetek Lutheran, Chetek

Sunday, March 8, 4:00 pm, Bethany Lutheran, Rice Lake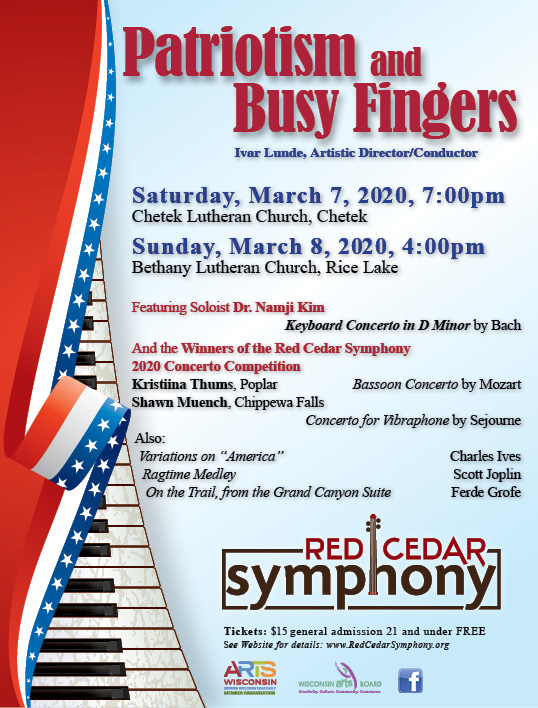 Adult Tickets

Tickets for adults over the age of 21 are $15 each. They can be purchased at the door. To purchase tickets ahead of time, please contact us.

Youth Tickets

It is the policy of Red Cedar Symphony to grant youth under the age of 21 free admissions to our concerts.