The Red Cedar Symphony was founded in the fall of 1983 for the purpose of presenting symphonic music experiences to the Rice Lake community. In its first season, the orchestra presented two public concerts under the direction of Sister Shirley Wagner. In 1984 the orchestra engaged the services of Warren Friesen as director and conductor. Under his direction, the orchestra grew numerically, artistically, and financially. It was during Friesen's tenure that the orchestra legally incorporated as a non-profit organization. Mr. Friesen is currently on staff at Gustavus-Adolphus College as orchestra director.
Successive conductors include:
Andrew Johnson
Jon Poupore
Dr. David Scott
Edward G. Thompson
Thomas Howell
Josh Aerie
Kevin Peters
Guest conductors include:
Kevin McMullin
Anastasia Traicoff.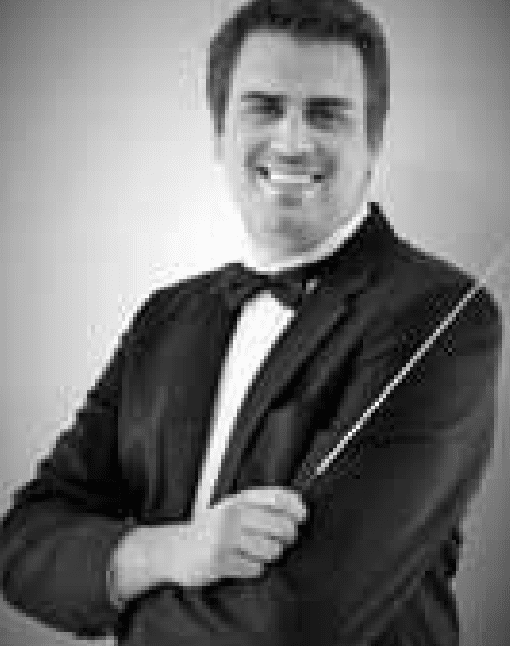 Artistic Director
Kevin Peters
Kevin Peters holds a Masters Degree in Instrumental Conducting from Ithaca College, where he conducted nearly every major instrumental ensemble, including several performances as orchestra director with the college's nationally recognized theater program. Locally he has conducted shows for the Eau Claire Children's Theater, Chippewa Valley Theater Guild, and the Menomonie Theater Guild. In addition to his conducting engagements, Mr. Peters works as an artist representative for Dow Artists, and is the manager and exclusive agent for the Dallas Brass.
During its first three years, the orchestra was graciously supported by the UW-Superior Chamber Orchestra, which helped the RCSO "get on its feet" by joining it for dress rehearsals and concerts. Subsequent to that, the orchestra has been able to recruit and retain local string musicians to fill sections, no longer needing help from UW-S musicians. The orchestra roster currently includes twenty or more area string players. These, together with the requisite wind and percussion players, make an impressive roster of about forty-five musicians. Musicians have come from:
La Crosse, Eau Claire, Chippewa Falls, Prairie Farm, Rice Lake, Cumberland, Shell Lake, Spooner, Hayward, Ladysmith, Cable, Danbury, and points in between.
Bethany Lutheran Church hosts the orchestra for rehearsals and performance space. The Red Cedar Chorus (formerly Community Choir) has joined with the orchestra for a combined program several times. The orchestra's concerts have included programs outside of Rice Lake in Spooner, Cumberland, Shell Lake, Siren, Ladysmith, Hayward and Chippewa Falls. The orchestra has twice featured Ronald McDonald at its children's concerts and was honored to be a part of the world premiere of One Nation, with Pipestone. This work for Symphony Orchestra, Native American Drum Group, and student string players was composed by Kevin McMullin, A concerto competition is held in the spring on even-numbered years, to promote talented local musicians and to give them the opportunity to perform as soloists with the orchestra. The Music Director, Executive Director and Personnel/Music Manager are the only paid part-time positions.